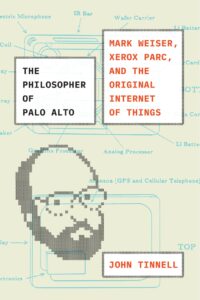 The Philosopher of Palo Alto
A compelling biography of Mark Weiser, a pioneering innovator whose legacy looms over the tech industry's quest to connect everything—and who hoped for something better.
"Weiser's pioneering ideas, which he refined in the nineteen-eighties and nineties, led to the present-day Internet of Things, but his vision lost out to the surveillance-capitalist imperatives of Big Tech. Tinnell's profound biography evokes an alternative paradigm, in which technology companies did not seek to monitor and exploit users."
— New Yorker

"The story of Weiser's undertaking is told by John Tinnell, a professor of English at the University of Colorado at Denver, in his new biography The Philosopher of Palo Alto, and it's refreshingly strange. . . . Tinnell presents Weiser both as a progenitor of this state of affairs—his PARC was where 'the seeds for the Internet of Things had been sown'—and as the prophet of an alternative paradigm that might 'hold some conceptual tenets for building a better Internet of Things today,' one that rejects 'total surveillance and zero privacy, runaway automation, and diminished agency.'"
— New York Review of Books

"In the life of Mark Weiser, John Tinnell has found a morality tale for our times. For anyone looking to understand how technology is shaping society today, The Philosopher of Palo Alto is a compelling and necessary read."        — Nicholas Carr, author of The Shallows and The Glass Cage
When developers and critics trace the roots of today's Internet of Things—our smart gadgets and smart cities—they may single out the same creative source: Mark Weiser, the first chief technology officer at Xerox PARC and the so-called "father of ubiquitous computing." But Weiser, who died young at age 46 in 1999, would be heartbroken if he had lived to see the ways we use technology today. As John Tinnell shows in this thought-provoking narrative, Weiser was an outlier in Silicon Valley. A computer scientist whose first love was philosophy, he relished debates about the machine's ultimate purpose. Good technology, Weiser argued, should not mine our experiences for saleable data or demand our attention; rather, it should quietly boost our intuition as we move through the world.
Informed by deep archival research and interviews with Weiser's family and colleagues, The Philosopher of Palo Alto chronicles Weiser's struggle to initiate a new era of computing. Working in the shadows of the dot-com boom, Weiser and his collaborators made Xerox PARC headquarters the site of a grand experiment. Throughout the building, they embedded software into all sorts of objects—coffeepots, pens, energy systems, ID badges—imbuing them with interactive features. Their push to integrate the digital and the physical soon caught on. Microsoft's Bill Gates flagged Weiser's Scientific American article "The Computer for the 21st Century" as a must-read. Yet, as more tech leaders warmed to his vision, Weiser grew alarmed about where they wished to take it.
In this fascinating story of an innovator and a big idea, Tinnell crafts a poignant and critical history of today's Internet of Things. At the heart of the narrative is Weiser's desire for deeper connection, which animated his life and inspired his notion of what technology at its best could be.
*Buy the book online at:
Praise for The Philosopher of Palo Alto
"This riveting, up-close account reveals how one man's dream of benevolent computing helped set us on the road to the hyper-connected, surveillance-driven nightmare we inhabit today. A deeply unsettling and cautionary tale."

   -- Fred Turner, Stanford professor and author of From Counterculture to Cyberculture
*****
"Along with Doug Engelbart's intelligence augmentation and Alan Kay's Dynabook, Mark Weiser's ubiquitous computing is one of the three big concepts that Silicon Valley has fed off of for decades. Tinnell has done a wonderful job of capturing the arc of Weiser's ideas."

-- John Markoff, former New York Times tech reporter and author of Whole Earth: The Many Lives of Stewart Brand

*****

"The Philosopher of Palo Alto is a really interesting read in the context of the latest developments in AI. I do have a boundless appetite for books about the history of the industry and was intrigued by this as I'd never heard of Mark Weiser. The reason for that gap, even though he ran the computer science lab at Xerox PARC, is probably that his philosophy of computing lost out. In a nutshell, he was strongly opposed to tech whose smartness involved making people superfluous."

-- Diane Coyle, Enlightened Economist

*****

"I never cried before when I read a book about computers and their creators, but this time I did.... Tinnell captures Mark Weiser's long struggle to keep the exploding new information technology from overwhelming us as humans."

-- Hans Sandberg, Nordic Link

Actionable Media
In 1991, Mark Weiser and his team at Xerox PARC declared they were reinventing computers for the twenty-first century. The computer would become integrated into the fabric of everyday life; it would shift to the background rather than being itself an object of focus. The resulting rise of ubiquitous computing (smartphones, smartglasses, smart cities) have since thoroughly colonized our digital landscape. In Actionable Media, John Tinnell contends that there is an unsung rhetorical dimension to Weiser's legacy, which stretches far beyond recent iProducts. Taking up Weiser's motto, "Start from the arts and humanities," Tinnell develops a theoretical framework for understanding nascent initiatives--the Internet of things, wearable interfaces, augmented reality--in terms of their intellectual history, their relationship to earlier communication technologies, and their potential to become vibrant platforms for public culture and critical media production.
It is clear that an ever-widening array of everyday spaces now double as venues for multimedia authorship. Writers, activists, and students, in cities and towns everywhere, are digitally augmenting physical environments. Audio walks embed narratives around local parks for pedestrians to encounter during a stroll; online forums are woven into urban infrastructure and suburban plazas to invigorate community politics. This new wave of digital communication, which Tinnell terms "actionable media," is presented through case studies of exemplar projects by leading artists, designers, and research-creation teams. Chapters alter notions of ubiquitous computing through concepts drawn from Bernard Stiegler, Gregory Ulmer, and Hannah Arendt; from comparative media analyses with writing systems such as cuneiform, urban signage, and GUI software; and from relevant stylistic insights gleaned from the open air arts practices of Augusto Boal, Claude Monet, and Janet Cardiff. Actionable Media challenges familiar claims about the combination of physical and digital spaces, beckoning contemporary media studies toward an alternative substrate of historical precursors, emerging forms, design philosophies, and rhetorical principles.
"John Tinnell's Actionable Media is part of the next generation of required reading at the intersection of rhetoric and media studies. His book cuts across a wide swath of past and present forms of post-desktop computing to give us the tools we desperately need not just to understand the products of digital culture but to intervene in and reimagine our contemporary, digitally-mediated world. At this point in time, what could be more important than making our media actionable?"
-- Lori Emerson, Associate Professor and Director of the Media Archaeology Lab, University of Colorado at Boulder, Author of Reading Writing Interfaces
*****
"By linking rhetoric and ubiquitous computing, Tinnell offers a fascinating view into new forms of writing, meaning-making, and spatial practice as we move into a new era of ubiquitous computing. Tinnell's writing style is approachable, sophisticated, well-researched, and thoroughly entertaining."
-- Jason Farman, Associate Professor and Director, Design Cultures & Creativity Program, University of Maryland, College Park, Author of Mobile Interface Theory

Augmented Reality
Augmented Reality: Innovative Perspectives across Art, Industry, and Academia offers a wide-ranging exploration of the implications, challenges, and promises of augmented reality. Traditionally only covered from a technical perspective, augmented reality has become an increasingly important area of cultural inquiry in humanities scholarship and popular media outlets. This collection attempts to cross-pollinate the discourse, creating a multidisciplinary exchange among leading researchers and professionals who each advance different ways of understanding current (and future) forms of augmented reality. Another underlying mission is to bring critical reflection and artistic ingenuity into conversation with design thinking and software development. To that end, the collection features a mix of essays from humanities scholars, artworks by pathbreaking artists, as well as interviews with software developers and industry consultants. Among the first of its kind, the book also incorporates augmented reality into its own design by placing relevant digital content within the printed page using Aurasma.
Chapters by Scot Barnett, Jason Farman, Jordan Frith, Jason Helms, Steve Holmes, Jason Kalin, Sean Morey, Brett Oppegaard, Isabel Pedersen, John Tinnell, Douglas Trueman, and Joseph Weakland.
Interviews with BC Biermann, Sidney I. Dobrin, Maarten Lens-Fitzgerald, Blair MacIntyre, Christine Perey, and Jay Wright.
Artworks by BC Biermann, John Craig Freeman, Bryan Leister, Conor McGarrigle, Mark Skwarek, and Tamiko Thiel.
"This volume does an excellent job of enlarging the space of discourse for augmented reality, illustrating the contribution that humanistic and artistic approaches can make to assessing the significance of a new media technology.  I would definitely consider using this collection in various graduate or upper-level undergraduate classes that we teach here at Georgia Tech."
-- Jay David Bolter, Wesley Chair of New Media and Co-Director of the Augmented Environments Lab (AEL), Georgia Institute of Technology
*****
"Morey and Tinnell's collection fills an invaluable gap in its focus on the cultural and digital rhetorics of AR. In particular, this collection is well-suited for graduate and/or upper-level undergraduate courses on digital rhetoric, media studies, and/or multimodal composing in that it offers an array of valuable methodologies, definitions, and analyses that are sure to be of value to a range of disciplines."
-- Jacob Greene, Assistant Professor of English, Arizona State University